Not Only Do Blue Apron Have Delicious Meals,
They Have a Great Kitchen Selection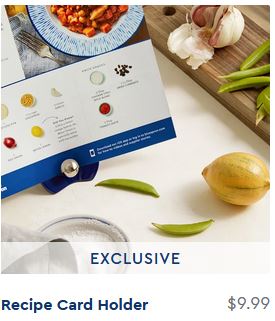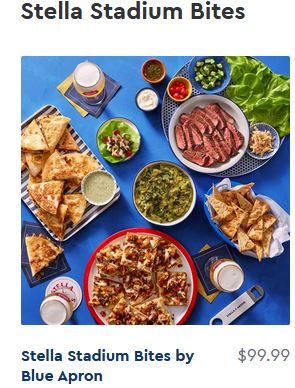 Kitchen Tools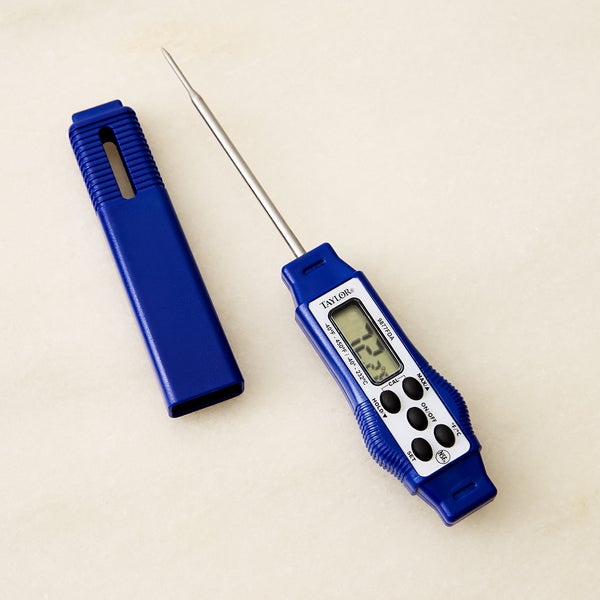 Make temperature taking the simplest step of your cooking process. Made by Taylor, a leader in easy-to-use instrument design since 1851, this thermometer is trusted by professional and amateur chefs around the world. It features an FDA recommended 1.5mm diameter step-down probe tip and an anti-microbial plastic storage case that prevents the growth of bacterial odor and mold. Easily calibrated in the field, it has a temperature range of – 40 to 450°F and features a six-second response time, so you can almost instantly learn the temperature of your meat to ensure the best possible taste.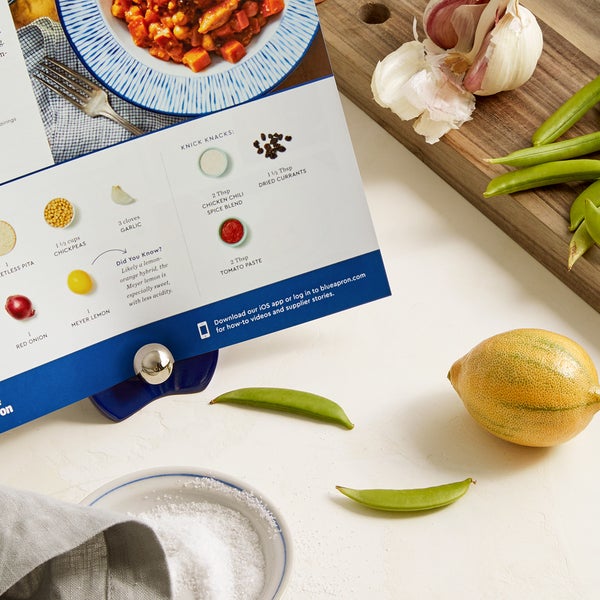 Is your sous chef tired of holding up the recipe card for you? Are you tired of picking it up and putting it down over and over again? We understand, that's why we found you a handy, hands-free solution! Our custom kitchen assistant will allow you to cook with a clutter-free counter and keep your Blue Apron recipes front and center for at-a-glance, step-by-step instruction. The magnetic base can hold up to three Blue Apron recipe cards—and is small enough to be tucked in a drawer when not in use.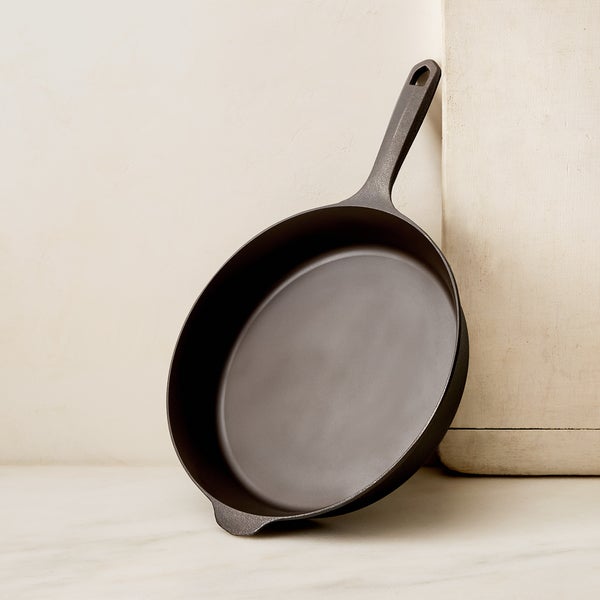 Meticulously designed by two Brooklyn-based brothers, the Field Skillet is a lighter version of the heavy duty essential you depend on every day. When the duo noticed that modern skillets couldn't live up to the quality of the vintage ones they grew up using, they were determined to design a contemporary take on an old-school staple. Their resulting Field Skillet is machined and polished, which reduces the weight, increases the fineness of the form and provides a smooth cooking surface. Each eco-friendly pan is made in the USA from 75-90% recycled cast iron, which has a pre-seasoned surface that'll improve over time to form a natural, non-stick surface. It's ideal for cooking a wide-range of dishes, from roasted vegetables to perfectly seared steaks. Due to its incredible versatility, you can braise it over coals, simmer it on the latest induction cooktop, serve it on your table and even hang it on your wall. For an even easier cleaning experience, use our Cast Iron Scrubber.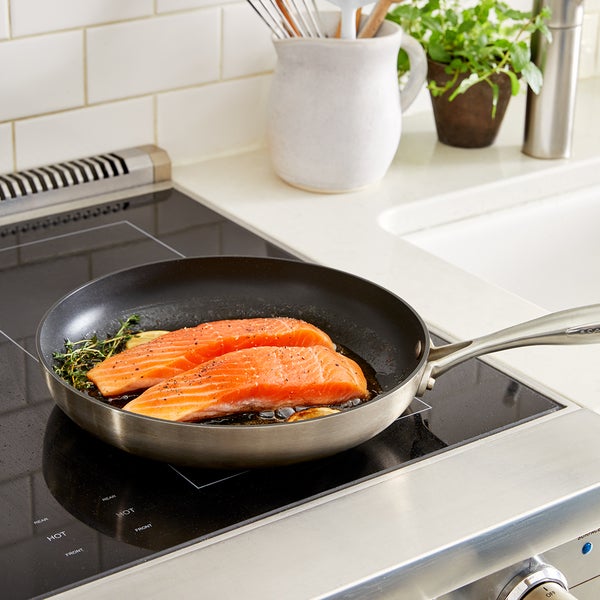 There's nothing worse than whipping up a delicious meal, only to have half of it left sticking (or worse, burning) to your pan! A pan can make or break how easy it is to flip and fry, especially for food that requires a delicate touch…think over-easy eggs, seared salmon and paper-thin crepes. Turn a new leaf with our 11" non-stick pan, which has a smooth, toxic-free cooking surface so you can cook with ease. And because it's coated with Scanpan's patented Stratanium surface, it stands up to utensils—even metal—and is a breeze to clean!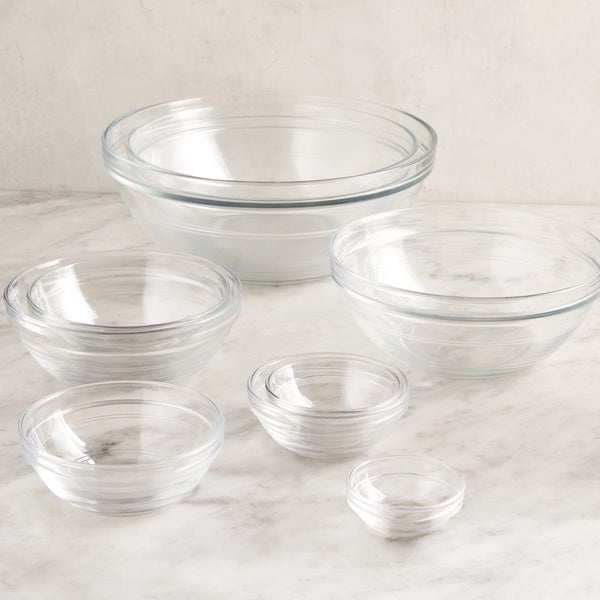 Never underestimate the importance of mise en place, French for "set in place." Following a recipe can lead to mess and chaos in the kitchen—especially if it's a recipe you've never tried before. That's why the first step of every Blue Apron recipe is to prep your ingredients so they are ready to be transformed into something delicious. This set of 9 elegant, chip-resistant prep bowls will help you keep your kitchen under control while you cook and stay ready every step of the way. Stackable and durable these dishwasher, freezer, and microwave safe bowls can handle anything.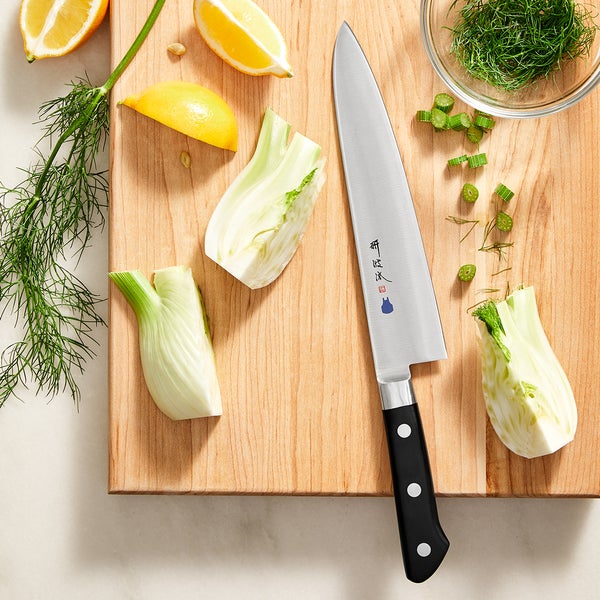 Every skilled chef's secret weapon, the right chef's knife can simplify any cooking experience–and cut prep time in half. We joined forces with Togiharu, a world-class purveyor of Japanese steel and a favorite of Blue Apron co-founder Matt Wadiak, to create a chef's knife that suits both experienced and budding chefs alike. Handcrafted in Japan, this exclusive knife is crafted using traditional Japanese techniques perfected over centuries, and features a sharp, stainless steel blade that allows for ultra-refined cuts.
Wine Bundle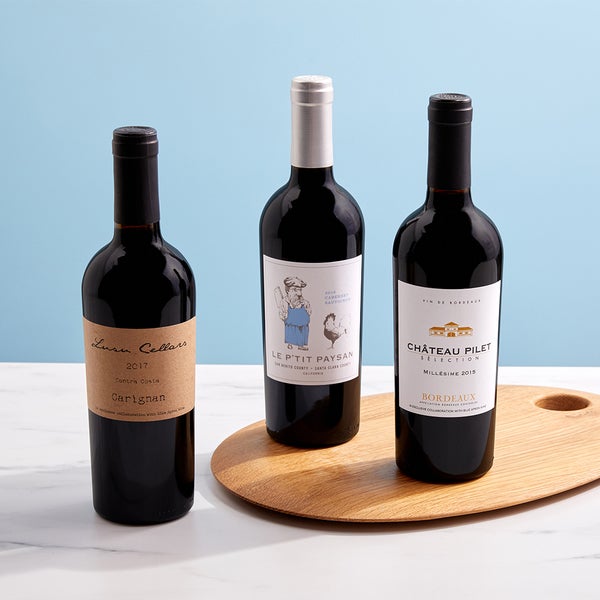 Whether you're in the mood for eating something light, heavy, or in-between, this three-bottle bundle covers all your bases. It includes versatile reds from popular pairing keys—light and bright, fruity and savory, bold and spicy—which makes it perfect for pairing with a variety of foods.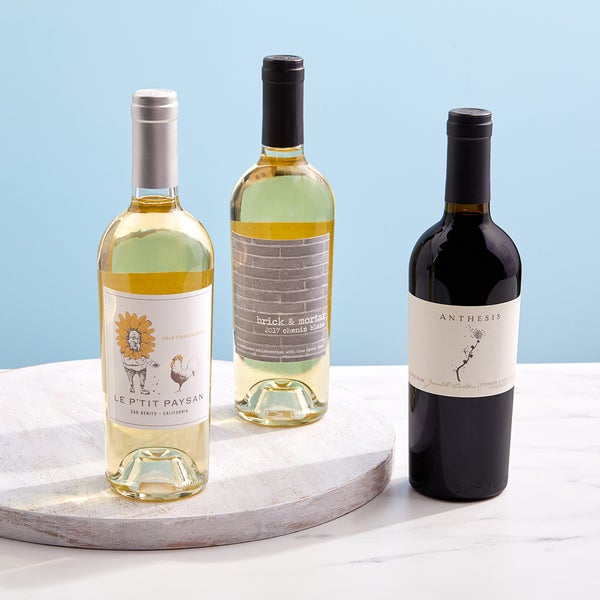 This must-try bundle features wines with Crisp & Minerally and Plush & Fruity pairing keys, making them ideal companions for an easy weeknight stir-fry or carry-out. Featuring refreshing and fruity notes with a bit of acidity, these wines cut through and complement the umami-rich flavors of Asian-style noodles, indulgent sauces, and meat.