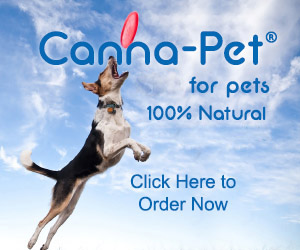 Money Back Guarantee
Try any Canna-Pet® Advanced product for 30 days. Learn More
♥ Safe & Natural
CBD hemp oils are naturally occurring compounds present in plants, cultivated for thousands of years because they interact with the endocannabinoid system (ECS).
The ECS is involved in a variety of physiological processes including appetite, pain-sensation, nausea, mood, memory, and inflammation. Because CBD oil only has trace amounts of THC, there are no psychoactive effects of cannabidiol oil.
♥ Veterinarian Recommended
Developed in a collaboration of scientists, medical researchers, and veterinarians, Canna-Pet® is the first and only complete hemp and terpene product designed specifically for cats and dogs. Canna-Pet's oil, capsules, and treats are now available from select veterinary clinics.
♥ Unique Results
Canna-Pet® uses proprietary extraction and formulation technology to create exclusive whole-plant blends that utilize over two dozen types of hemp and their terpenes. With millions of capsules produced for pets, Canna-Pet® is the global pioneer of CBD oil for dogs and cats.
Read about Canna-Pet® results, as reported by Colorado State University.
♥ Entourage Effect
Only Canna-Pet® products provide the Canna-Pet® Entourage Effect, by retaining dozens of volatile hemp and terpenes in our proprietary formulations. 10-15x the bioavailability of edible treats.
♥ Vastly More Effective
98% of survey respondents find Canna-Pet® more effective than chondroitin, glucosamine, lysine, SAM-e, fish oil, milk thistle, Coenzyme Q10, Azodyl, calming products, or probiotics. Read More.
♥ Insurance Approved
Only Canna-Pet® products are covered by major insurers like Petplan and Trupanion (with proper vet recommendation and policy riders).
♥ Made in the USA!
All of our products are formulated and manufactured in our USA-based cGMP laboratories. Canna-Pet® formulations are organic, non-GMO and vegan, free of animal products, preservatives, SLS, gelatin, wheat, gluten, sugar, and dairy. Pet owners use Canna-Pet® for pain, anxiety, seizures, and more! Studies emerge daily on conditions that can be mitigated with the benefits of CBD.
♥ Evolving
Canna-Pet® has been conducting trials and research in conjunction with prominent veterinary universities for several years. Our CBD oil products represent the frontier of nutrition for pets.
♥ Scientifically Pioneering
Every day there are new medical discoveries about hemp. These are, in part, based on 30 years of documented research conducted on small animals. Canna-Pet® nutritional hemp for pets – distributed worldwide since 2013.
20% off Your first order from Canna-Pet.com. Use Code: new_customer20 at checkout. coupon valid for new customers only.
Package Savings: Canna-Pet Advanced Large 60 capsules & 10ml MaxHemp Liquid Regularly priced at $164.98 now just $119.99 *Limited Time Offer*
Package Savings: Canna-Pet Advanced Large- 60 count capsules & One Box of Advanced Biscuits Regularly priced at $81.98 now just $73.99 *Limited Time Offer*