Overview
The Heart + Honey Couple's Box is selectively  designed as an romantic  exchange between lovers.
All the senses are engaged in this package of luxury items that rouses sight, smell, taste, and touch.
When you sign up for a Heart + Honey subscription, every month you will receive a box of carefully selected items that heightens your sexual health and wellness.
Each monthly theme is carefully curated. Hearts & Honey strives to bring you the best in big name products as well as introduce you to small batch, artisan specialty items.
Subscription orders are accepted from the first day of any given month, until the last day of that month – for boxes shipped in the following month.  We ship the first week of every month.  All monthly subscriptions renew on the 15th of the month, though you can cancel at any time.
Each box delivered is discreetly packaged. Hearts & Honey brand does not appear on your box.
Now Subscribing to the March Lady Luck Box!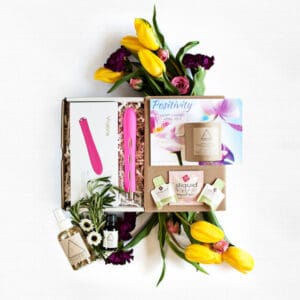 Queen Bee Subscription Boxes
Our Queen Bee Box starts at $65 per month,  you will find  a luxury sex toy/accessory plus 2 to 4 premium sexual and lifestyle products. All products complement a monthly wellness theme that promotes vitality and passion.