Snacks from a different country delivered monthly!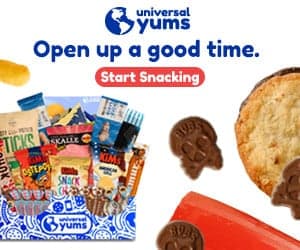 Great idea for Game Night!!!!
20+ unique snacks in every box
16 page guidebook with trivia & interactive games
Explore each country's culture, history, music and most importantly: food!
Perfect for game night with family or friends
How It Work
Start
Sign up for a subscription and automatically receive boxes each month until you cancel. Or, give as a gift for either 1, 3, 6 or 12 months.
Ship
The ship date of your first box can be seen during the signup process. Future boxes will ship on the 15th of the month, and you'll receive an email with tracking information every time your box ships.
Snack
Receive your box of Yums and enjoy the adventure! Feeling full? You can easily cancel your subscription with our one-step cancellation process. Not that you'd want to!