Self Care Subscription Box  By Therabox
Therabox inspires happier lives by providing practical joy-inducing activities and thoughtful self-care products! Each month, therapists curate a box that includes a happiness activity inspired by neuroscience and positive psychology research, as well as full-sized wellness items for the mind, body, and soul!
Neuroplasticity refers to the brain's ability to constantly reorganize itself by forming new neural connections throughout life. Because of neuroplasticity, you can literally change your brain and live a happier life based on YOUR actions and thoughts!
One self-care therapeutic activity and 6–8 full-sized wellness goods (or, ingredients as we like to call them) are included in every inspired box to help you live better and experience more joy.
To Subscribe Choose You Self Care Plan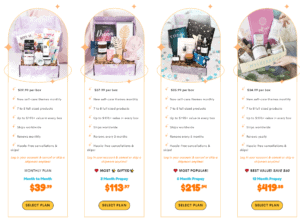 New Arrivals To Consider