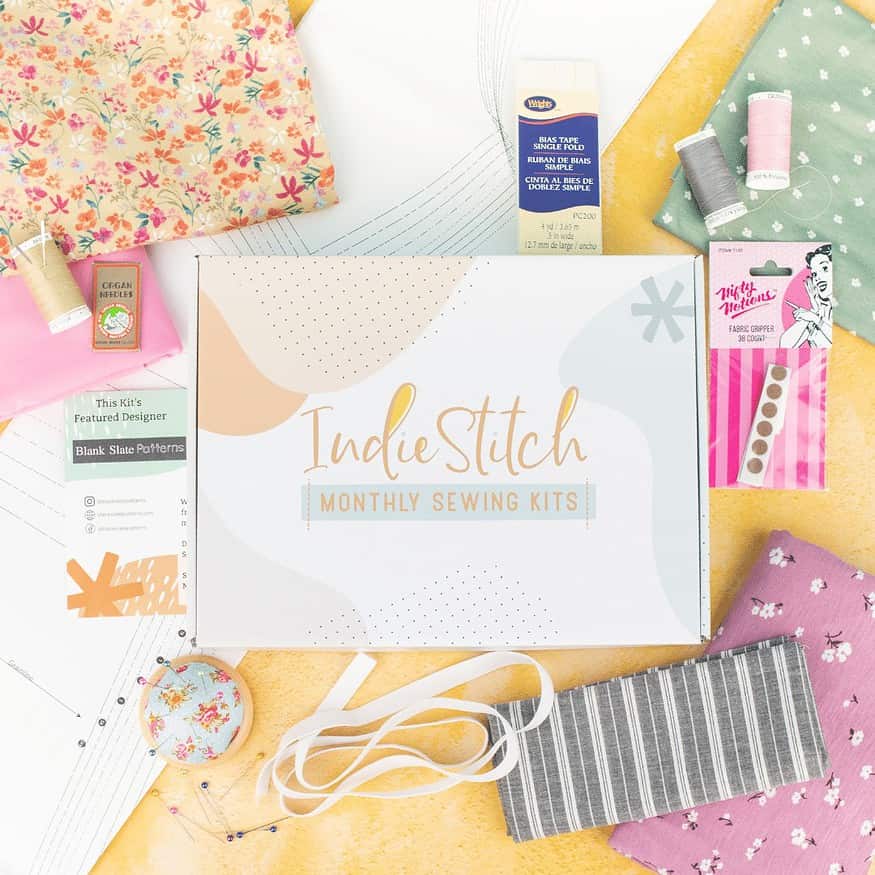 With IndieStitch, You sew a new piece of clothing every month – Quality fabrics, supplies needed, video tutorial all included. As low as $42.70 for first box
IndieStitch Kits include:
Top independent designer's women's sewing pattern, fabric and supplies to complete the project, and more! You'll also get access to our Membership Hub, where you can watch tutorials and pick out fabrics for your projects! It's ideal for the sewist who wants to sit back, relax, and make something they'll love to wear!
AS SEEN IN: Sewing Society & BuzzFeed and 5 Stars on SoTellUs
A digital pattern, printed pattern pieces, 2-4 yards of fabric, thread, needles, notions, sewing supplies, and extras are all included in each box. A step-by-step video class for the project is also available. worth more than $120.
Not excited about one of the upcoming projects? You have an alternative to skip that project or choose one of the past boxes. Cancel at anytime!
Size patterns run from XXS-3XL

All Kits Include…
This month's pattern as a downloadable PDF direct from the designer.
A full size, copy-shop print of the featured pattern (no printing or taping required!)
Your choice of 2-4 yards of fabric that's perfect for the pattern! No more wondering if your fabric has enough stretch or if it is made of the right material.
From thread to buttons to elastic – everything you need for the project!
Notions, sewing swag, and tools. Cute and fun to add a smile to your face and make your sewing even more efficient and fun.
Access to the monthly sew a long and private IndieStitch community (so that you can get support with any sewing questions and make new friends along the way!).
How it works
♦ You subscribe! Choose the plan that works best for you and check your email for fabric options
Plans start at $42.70
♦ Get a complete sewing kit with everything you will need delivered right to your front door
♦ Sew your new favorite piece along with our growing IndieStitch community and members-only video tutorial.